The Numismatic Museum of Athens

| | |
| --- | --- |
| | The Numismatic Museum of Athens is housed in a neoclassical building designed by the German architect Ernst Ziller. Its decoration has been inspired by the Renaissance and it has been named as Ilion Melathron. It was firstly used as the residence of Heinrich Schliemann, one of the greatest excavators ever been in Greece. It has been decorated by the most talented craftsmen and its floors consist of fine mosaics which had been created by Italian artists, depicting geometric patterns like those found during excavations in Mycaenae and Troy. The walls have been adorned with frescoes on which scenes from Pompeii have been drawn, by the Slovenian painter Yuri Soubic. |
The first room of the museum is devoted to its first resident, Heinrich Shliemann. It hosts items related to the history of the building as well as to the life and the work of E. Ziller and H. Shlieman. There are also some objects presenting the history of Athens in late 19th century AD.
The second room has been named as the room of Esperides. Its exhibition is related to the very first coins, in particular to the methods used for constructing coins during ancestry. So, the visitor may see the first coins that were cut by the greek towns during the 6th century BC, in Aegina, Corinth and Athens.
The fourth room hosts the coins that were used later within the colonies in the Mediterranean and the Black Sea. International coins like the tetradrachm of Athens and the stater of Alexander the Great can be seen there.
The sixth room of the museum was used as the dining room of H. Schliemann. Nowadays, it hosts the collections offered to the Museum by benefactors.
The Numismatic Museum of Athens is considered to be among the most important of its kind worldwide. Hosting more than 600, 000 items, it is one of the most interesting sites of Athens that are worth visiting.
Museum Sections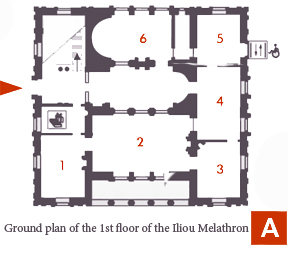 1. The Iliou Melathron and Heinrich Schliemann
2. Coinage in the Ancient Greek World – Origins and Spread
3. Coinage in the Ancient Greek World – International and Common Coins
4. Coinage in the Ancient Greek World – Iconography and Ideology
5. Coins and Archaeology
6. The Great Donors of the Numismatic Museum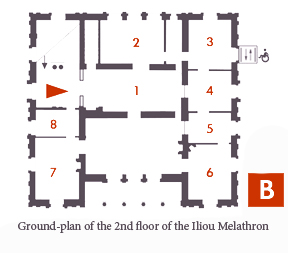 1. Coinage in the Roman World
2. Coinage in the Byzantine World
3. Coinage in the Western and Eastern Medieval World
4. Coinage in the Modern and Contemporary World
5. Coinage in the Modern Greek State
6. The World of Medals
7. Money and Society
8. Money and Movies

Admission and opening times
Monday 13:30-20:00, Tuesday-Sunday 08:00-20:00
Holidays (closed):
January 1st, March 25th, Orthodox Easter Sunday, May 1st, December 25-26th
Tickets: Full: €3, Reduced: €2
Access
By Metro - Syntagma and Panepistimio stations
Trolleys nr.: 2, 3, 4, 11, 13
People with Disabilities: Lift for access to persons with kinetic problems
Contact information
Address: Iliou Melathron, El. Venizelou (Panepistimiou) 12, GR-106 71 Athens
Tel: +30 210 3612519, +30 210 3612190
Fax: +30 210 3635953
Email: nm@culture.gr, nma@otenet.gr