The Banknote Museum of Greece in Corfu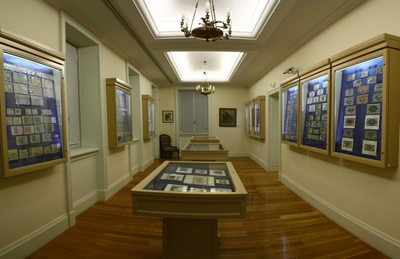 Corfu is not only one of the most visited islands in Greece offering many natural beauties, it is also the home of the only Banknote Museum in Greece and one of the very few in the world. The collection exhibited in the museum is comprehensive and continuously expanding.
The Banknote Museum of Greece is housed where the first branch of the Ionian Bank was once in operation. Its collections even include Greek banknotes dating back to 1822 and of course the last ones withdrawn in 2002 with the appearance of euros. The museum hosts more than 2000 exhibits such as sketches, essays and printing plates for various Greek banknotes, archive material, documents, accounting books, checks, photographs and all the issues of national banknotes. A presentation of the modern manufacturing process of banknotes also takes place inside the museum.
The old building of the Ionian bank used as a home for the museum was designed around 1840 by Ioannis Chronis, an architect from Corfu. At some point it was renovated and reorganized with the help of Aris Rapidis, a museum curator and historian. All these details make this museum one of the most complete of its kind.
The second floor of the building is used since July 2007 as an exhibition hall where several cultural events also take place. The first event that took place there was an exhibition about Greek costumes which was organized with the help if Benaki museum.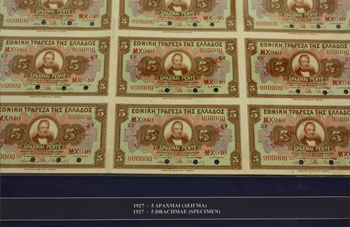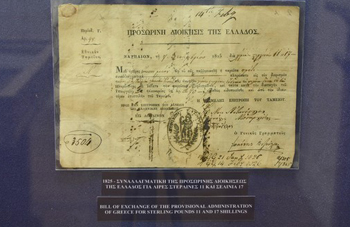 Among the important exhibits included in the museum's collection are:
One of the rarest banknotes presenting the church of Agia Sophia in Constantinople, without the Ottoman minarets which was never circulated.
The first banknotes issued by Ioannis Kapodistrias, the first Governor of Greece.
The first banknotes printed by Perkins Bacon and Bradbury Wilkins which were British printing houses.
Rare art deco style banknotes printed in France representing for example Hermes or other figures.
The 100 billion drachma banknote issued during the hyperinflation in 1944, the period of the highest banknote denomination in the history of Greece. After the end of the hyperinflation its value dropped to 2 drachmas only!

Contact information
Address: Iroon Kypriakou Agona Square, 49100 Corfu
Tel: +30.26610.41552, +30.26610.80342

Admission and opening times
It is open 8:30 - 15:00.
In winter, the museum opens only for groups of visitors (schools, universities, tourist groups etc)

Access
3' walk from Liston at Plakada tou Agiou, facing Faneromeni church